S

vea -

Sveagruve (gruve = mine). The first samples of coal were brought to Sweden initiated by an institution called

Jernkontoret

(Iron Office). It was originally claimed in 1910 by a Swedish expedition under Bertil Høgbom. Carl Emil Kinander, a Swedish lawyer and managing director of the

Jernkontoret

in Stockholm claimed these coal fields. The Swedish government first bought shares in the undertaking and later advanced loans. It lies abo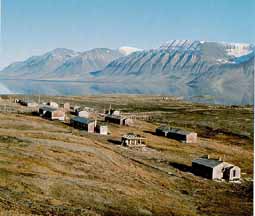 ut 31 mi. (50 km.) southeast of Longyearbyen.
Aktiebolaget Isfjorden-Bellsund - The first Swedish company, founded April 21, 1911, was in existence from 1911 to 1916.
Aktiebolaget Spetsbergens Svenska Kolfalt This company (ASSK) was founded September 4, 1916 and lasted until 1921. In 1918 there were 40 wintering men in Svea.
Mine No. 1 worked the upper seam at Braganzavågen (Svea) and was in operation 1917-25.
Mine No. 2 worked the lower seam at Braganzavågen and was in operation 1920-25. This lower seam has a height between 3 and 4½ m., with rock interbeds in parts of the minefield.
Svenska Stenkolsaktiebolaget, Spetsbergen Founded June 17, 1921. The mines were operated by the Swedes from 1917 to 1925 with total shipments of 445,000 tons. In 1924 the company was able to ship 103,000 tons and in 1925 shipped 81,542 tons. Production ceased due to a serious mine fire in 1925, closing the mine. They sold part of their claims, those located at Pyramiden in Isfjord, to the Russian company Russky-Grumant in 1926, later acquired by the Soviet state comp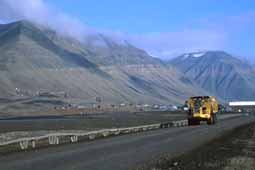 any Trust Arktikugol in 1931. Sold the remaining part of their claims at Svea to another Swedish company in 1928.
Nya Svenska Stenkolaktiebolaget, Spetsbergen Formed in April 23, 1928 and took over the Svea claims. A Swedish magnetic and aerological station was maintained at Sveagruva during the Second International Polar Year, 1932/33. The new company held the Svea tracts until sold in 1934.
Store Norske Spitsbergen Kulkompani A/S purchased Svea in 1934, made possible by one million kroner in government loans. The development of a new mine (West Mine), situated about 400 m. from the old Swedish Mine No. 1, was started in 1939 and mining commenced in the autumn of 1941. It also worked the upper seam, but it was interrupted by war. Work began again in 1947, but closed in July of 1949 due to sales difficulties.
Postmark SVEAGRUVA introduced in 1946 and used until 1950. S.N.S.K. scrip used there with red-violet rubber stamp overprinted Sveagruben is known from season 1946/47. New surveys and interest in the early 1970's led to the mine reopening. The Post office also reopened July 15, 1972. By the early 1980's there were 80-90 working at Svea.
Shipping in Svea is from the quay at Kapp Amsterdam with a sailing season from the end of June to the end of October. The quay can take ships up to 35,000 d.w.t. and a loading capacity of 1000 tons/hr. Ice conditions are not good in Bellsund and Van Mijenfjord, with ice often until late June. About 2000 much work was underway to increase the loading capacity of the quay and opening a new North Mine that is now the main SNSK coal mining operation on Spitsbergen.