As many of my loyal contributors know, I have had trouble adding your notes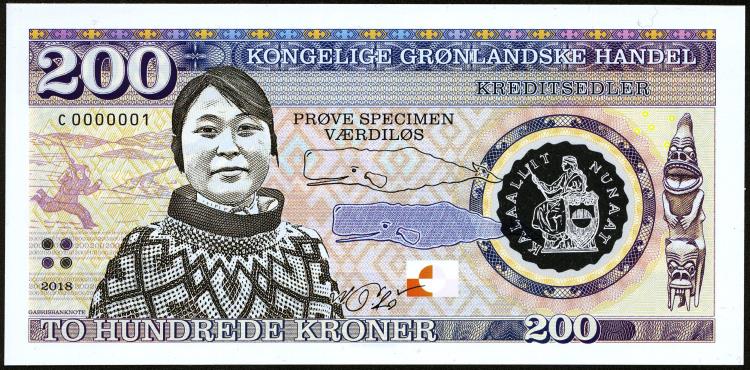 to Numismondo. Today I'm attempting to add an amazing 2018 HYBRID, paper and varnish covered, ESSAY note from banknote designer Mr. Matej Gábriš. This Kalaallit Nunaat (Greenland) note features a native woman, a partial flag, other interesting local elements, along with a unique clear window at right. The window appears in this image as having a black vector coat of arms at righ
t. But is in fact a clear window with the image appearing as a watermark to the naked eye. The back features a beautiful scene from the southeast town of Tasiilaq, formerly called Ammassalik, with a current population of 2000 people.

European colonization of Greenland started in 982 A.D. by Iceland when Viking explorer, Eric Thorvaldson, known as Eric the Red, arrived with his small party. Born in Jaeren, Iceland in 950 A.D. Thorvaldson was exiled from Iceland for three years when he traveled west seeking the land that Norwegian Gunn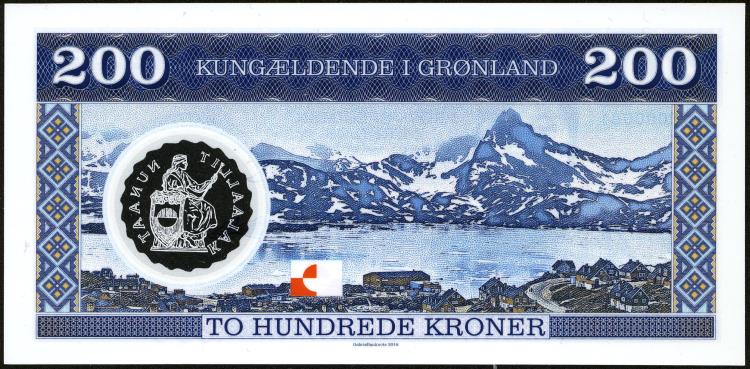 bjorn Ulfsson had sighted 50 years earlier. He initially settled the southeast coast of Greenland and after completing his exile he returned to Iceland. The name Greenland is said to have been established by Eric, the worlds first "Ad man", to attract potential settlers who were looking for fertile lands. It worked and in 985 A.D. Eric returned to Greenland with 450 colonists establishing the eastern settlement of Brattahlid, near the current town of Julianehab. Leif Ericsson, Eric's son, became Ruler of Greenland. Leif, his brother Thorvald and his sister Freydis were thought to have been the first Europeans to have landed in North America around 1000 A.D., long before Columbus.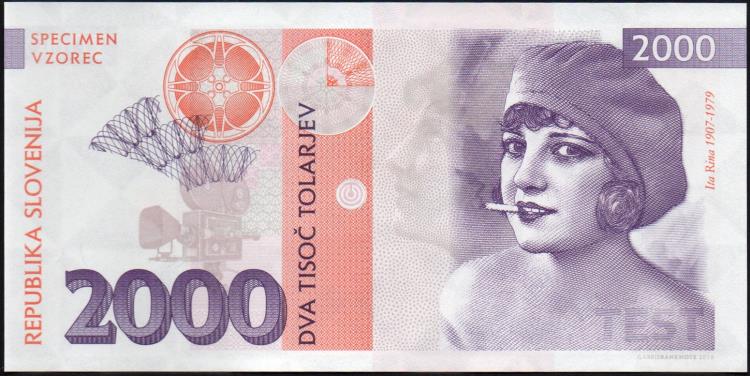 Slovakian graphic and banknote designer Mr. Matej Gábriš has release another outstanding design, this time with the theme of Ita Rina (1907-79), who was a Slovenia & Serbian film actress and beauty queen.

Slovenia P.UNL 2,000 Tolarjev 13.4.2016. This is a private graphic essay specimen with dimensions of 158 x 78 mm. The actual date of printing was 21.5. 2016 and released notes have unique individual numbers on the front. The back has a composition o
f Ita Rina images displaying her film work and Ljubljana Town Hall. A total of only 600 pieces were produced on 100% cotton paper using an advanced offset printing technique which incorporates three security spot colours.

These notes also have other security features including a triangle watermark, fluorescent fibres and embedded "gabrisbanknote-specimen" which can only be seen under ultraviolet light. Imprint GABRISBANKNOTE 2016. Visit the Gábriš website for more info:
http://www.gabrisbanknote.com/
Slovakian graphic and banknote designer Mr. Matej Gábriš has now partnered with American
banknote designer Mr. T. Stebbins to form the Stebbins-Gábriš Studio. Their first creation is this classic Kingdom of the Francs 1 Silver Shilling note and will be issued in a limited edition of only 600 pieces.

Designed in the American Bank Note Company tradition, this note features the Late Antiquity-Middle Ages period but with modern security features, including watermarked paper, microtext, UV light print and spot
color. The Kingdom of the Francs is a takeoff on the West Germanic tribes of Regnum Francorum with a coin image of Martellvs CarolV, Duke & Prince of the Franks from 718-41

Mr. Stebbins designed the obverse while Mr. Gábriš did the reverse. This note was originally prepared as a traditional 20 Franc note but later changed to the current denomination. It was printed in Slovakia. I expect it will be highly sought after by the traditional collecting community. The reverse inscription at the bottom states, "solido uno" which means the solid one in Latin - a fitting description. GSE 14.9.2016
15,543 banknotes from 384 "countries" in 6391 pages are now listed; last update 28 January 2016
198 Current Countries, 149 Former, Terr., Unrecog.,Currency Unions, 31 Local currency Issues, 19 Fantasy Issues
A new chapter of the International Bank Note Society was formed on 27.3.2014 in the USA state of North Caroli na under the leadership of Austin Mattox, Vice President of Mattox Coins & Stamps.

Membership is currently free and is not limited to IBNS members. The chapter would particularly like to encourage exploration, as seen from the unique perspective of paper money.

IBNS and Chapter member Migue
l Chirinos, a Latin America researcher and author has just published his latest article on Venezuela's Leper Colony currency. Read it here. He also just finished a beautifully illustrated articles on the little known USA - Panama $50 C ommemorative issue of 1914, Lighthouses on World Banknotes and Historical Maps on Latin American Banknotes.

Meetings are held monthly in the Triangle Area of NC but interested parties from other areas may also join. Contact us for additional info.