Papua New Guinea is an independent island-state in the equatorial West Pacific, occupying the eastern half of the island of New Guinea and several hundred smaller islands and atolls east and north, almost to the equator. Indonesia occupies the western half (Irian Jaya). Papua New Guinea's population is approximately 1.6 million people, many living a stone-age, subsistence, lifestyle, and speaking nearly 800 different languages. The country has a Parliamentary form of government and is a member of the British Commonwealth of Nations. Her Majesty, Queen Elizabeth II is Head of State.

Although indigenous occupation appears to date back more than 50,000 years, New Guinea came to the attention of Europeans when the Portuguese explorer Jorge de Meneses landed on it in 1512, naming it the "Ilhas dos Papuas," basically meaning Island of the Fuzzy Headed People. The term "New Guinea" was applied to the island in 1545 by a Spanish explorer, Inigo Ortiz de Retes, because he thought the inhabitants resembled the people of Guinea in Africa.

In 1660, the Dutch laid claim to the entire island, but did little with it, leading the British East India Company to claim the island in 1793. To avoid conflict, Britain and the Netherlands agreed to Dutch sovereignty over the western half of the island. Britain did not, however, claim sovereignty over the eastern half, leaving the door open for Germany to establish a trading station at Rabaul on what is now the island of New Britain.

The

German presence to the north worried the government of the Crown Colony of Queensland, which to counter the perceived threat, sent a contingent of police to New Guinea to claim the eastern half of the island. Pushed into action, the British announced their intention to formally claim Eastern New Guinea in 1884, prompting the Germans to raise their flag and claim the North Coast. Soon after, the British and Germans formally divided the non-Dutch half of the island arbitrarily down its east-west middle. The German northern quarter of New Guinea became German New Guinea and the British quarter British New Guinea, until 1906, when it was renamed Papua and its administration was turned over to the Commonwealth of Australia, itself formed only five years previously.

Between 1884 and 1914, German Imperial banknotes (Germany, P.1 - P.46) were used in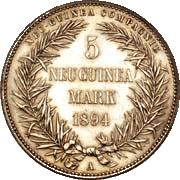 the German quarter of New Guinea, although coins were issued specifically for the area. British currency prevailed in the British Sector, until Burns-Philp and Company complained that a lack of currency in the area was stifling economic growth and issued currency of its own in Port Moresby and Samarai in 1893. In those days, Samarai, on the eastern "boot tip" of New Guinea, was an important stop for steamers reprovisioning coal and other goods before crossing the Pacific. The Burns-Philp currency continued to be used in the region until its withdrawal in 1911, replaced by Australian coins and banknotes and a short-lived banknote issue by the Bank of New South Wales, headquartered in Sydney.

Almost immediately upon the outbreak of World War I, the Australians sent an Expeditionary Force to Rabaul to occupy it for the Allies. Needing money, the Force obtained permission from the Australian Government to issue emergency currency in the former German area. Used for only ten weeks, these are very rare. Thereafter, Australian and German money was used until 1920, when the now entrenched Australians demonetized the remaining German money.

Australian currency circulated throughout Eastern New Guinea until the Japanese invasion in March 1942, when the invaders introduced their own currency in the occupied northern section of the country. Japanese currency, denominated in shillings and pounds, was used until the Japanese were driven from the islands in 1944. Afterwards, Australian currency returned until Papua New Guinea gained full independence in 1975, when the country introduced its own currency, the Kina.