The Faroe Islands have been a self-governing overseas administrati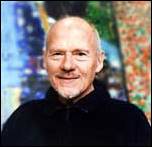 ve division of Denmark since 1948. Their currency agreement with Denmark is set out in an Act on Faroese Banknotes. It requires that Faroese banknotes must have the same face value and dimensions as Denmark's banknotes. Since Denmark released a new banknote series with new formats and a new denomination in 1997, Faroese banknotes were redesigned in conformance with the Act.

The unique Faroe designs include unusual fauna, a rams horn, fish tail, a moth, crab's claw and a bird's wing planned for the yet to be released 1,000 Kroner. All are indigenous to the Faroes. The 200 Kroner has been nominated by the International Bank Note Society as the 2004 banknote of the year.



The back images are based on watercolors by renowned local artist Zacharias Heinesen (above right). Born in 1936, in Tórshavn, the birthplace of

Nobel Laureate

Niels Ryberg Finsen

(left), he was the

son of the writer and artist William Heinesen.

His painting have been said to have a Matisse or Picasso sensibility but to me th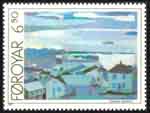 ey are quite unique. He has previously been honored to the delight of Art Stamp collectors with his beautiful watercolor images appearing on several Faroe postage stamps. His work has been described by the FaroeArtStamp website as follows:

"

In his landscapes Zacharias Heinesen concentrates on the expressive power and intense strength of colour, and the vibrating life of surface structures

."

.