We gratefully acknowledge the late numismatist Walt Jellum

who provided images and background information for this section.
---

Grumant (ГРУМАНТ) is from the Russian name for Spitsbergen, meaning Greenland. Also name of recognized coal bearing claim, east of Colesbukta, claimed in 1912 by a Russian expedition in the ship M/C Herkules, sent out by Archangel merchants under the leadership of the geologist Vladimir Aleksandrovich Rusanov (1875-1913). Rudolph Lazarevich Samoilovitch, a mining engineer, was a member of this expedition. The expedition erected a house on Rusanovodden, the house found by the Arctic Coal Co. in 1913 and represented one of many disputed claims.
There is no harbor at Grumant so they used Colesbukta to barge coal out to ships. Colesbukta is an open bay on the south side of Isfjord, named after Coles Park. Arctic Coal Co. and others misnamed it Coal Bay. No coal seams reach the surface at Colesbukta. This is also a recognized coal bearing claim, west of Grumant, the property of the estate of M. Lewin of Oslo. The original claim was made in 1912 by the Norwegian company A/S Stavanger Spitsbergen. The claim of the company also covered the Barentsburg area in Grønfjord.
Grumant A. G. Agafeloff & Co. (1913-1920). In 1913 a British com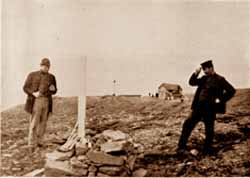 pany was founded by naturalized Russians, who in 1919 established a settlement, Grumant. This company dissolved in 1920.

The Anglo-Russian Grumant Co., Ltd. (1920-1923). Succeeded the Grumant A. G. Agafeloff & Co. Also known as Grumant Co., Coal Bay (Coles Bay mis-translated and referred to as Coal Bay).

Russki Grumant Ltd. (1923-1931). This company took over in 1923, but closed down the mine in 1926. It was reopened in 1931 under a Soviet company. During the economically depressed years of the late 20's, the Russians were keen on buying up land. They acquired the Swedish fields at Pyramiden and bought back their former mines from the British, finally securing the properties of the Dutch company at Barentsburg, about four areas, 97.05 sq. mi. in all.

Sojusljesprom - a Soviet company took over the Grumant claims in 1931, but handed them over to the following in 1932.

Trust Arktikugol

[Arctic Coal in Cyrillic] operated from 1932 until mining closed down at Grumant in 1963, due to the increasing importance of mining at Pyramiden. Grumant and Barentsburg shipped 177,000 tons of coal in 1934. In 1937 the Russians increased coal output to about 460,000 tons, but then fell below 300,000 tons/yr. Grumant production was about 60-70,000 tons/yr. with Barentsburg accounting for 4/5th of the production.

The winter population of 1934/35 was 1,821 Russians at Grumant and Barentsburg. The population prior to World War II varied between 1,500 and 2,000 Russians on Svalbard. In December of 1950 there were 2,023 males, 582 females and a production of 186,000 tons. During the winter of 1951/52 the population was reported to be 1,106 at Grumant, 953 in Barentsburg, and 457 at Pyramiden. The population was 1,961 in the winter of 1952/53. Production in 1952 was 250,000 tons.

After World War II Grumant was linked with Colesbukta by a newly built railway. As mentioned, experimental work was done at the fields on the north side of Isfjord, at Bohemanneset, in the early 1950's.