This beautiful banknote features the Chieftain Lapu Lapu, also know as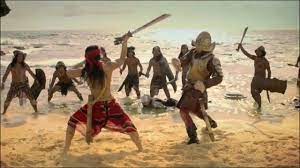 «ilapulapu, who led his forces in the defeat of Ferdinand Magellan in the Battle of Mactan on 27.4.1521.

Lapu Lapu is considered the first Filipino hero because of his resistance to Imperial Spanish colonization. Magellan's death in this battle delayed occupation for more then four decades.

This note was designed by artist and banknote designer Manuel Robertson.