GRUPPO FALCK (The Falck Group) was founded on January 26, 1906 by Sophus Falck (below), a Danish immigrant, under the name Acciaierie e Ferrier Lombarde FALCK (FALCK Steelworks and Foundry Limited Company, Lombarde). Currently its mission has focused primarily on the production of energy from renewable sources.

The energy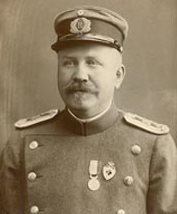 is an area that represents the natural evolution of the strategies of the Falck Group, which from the beginning had initiated an extensive program of hydroelectric power for the operation of the steel mills.

In November 2012 it was concluded the draft consolidation of all activities of production of energy from renewable sources within the Falck Group Actelios SpA , which acquired the name of Falck Renewables SpA , becoming one of the most important players in the sector as well the European scene. Falck Renewables SpA produces energy from wind, solar, biomass and waste to energy.

The Group has investments in banks and companies.
The Coupon above appears to have been issued only for use in the company canteen and stores. The design and printing were professionally done and are without date. Why they were issued is unknown at this time
Any info about this coupon/note would be appreciated.

FALCK GROUP - The Story