The "Levuka Pound" was the name given by researchers and collectors because little information has been confirmed as to who actually issued these notes, while it is assumed by others that D. Levy and Son were the issuers.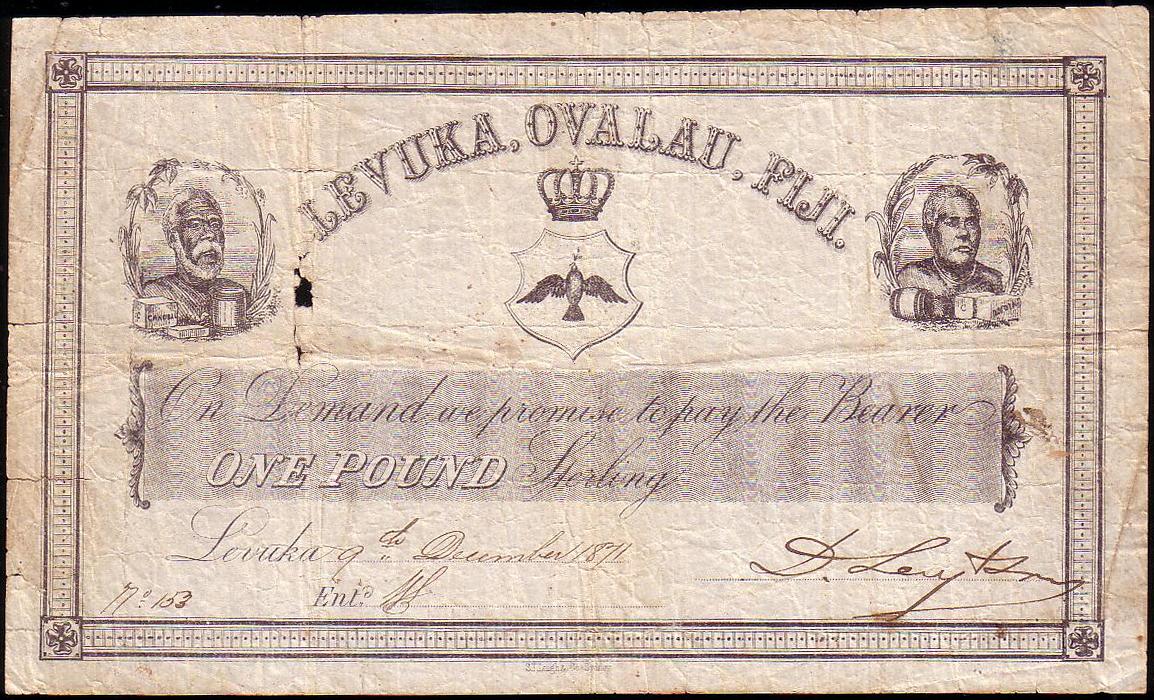 It has been reported in the Roger & Cantrell book, Paper Money of Fiji I, that this 1 Pound note was printed in Australia. On the note it indicates t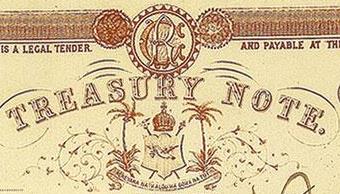 hat it was issued in Levuka, hence the "Levuka Pound" designation.

All Cakobau (Ratu Seru Epenisa Cakobau) government issues were also issued in Levuka but are in Dollar denominations. They all contain thee "CR" Cakobau Rex symbol, "Treasury Note" and a COA (Coat of Arms) to assert their issue by the Cakobau government. Government debentures also contain the government COA.
Interestingly the Levuka Pound has an image of King-Ratu Cakobau at left
and his rival Ma'afu (Chief-Enele Ma'afu'otu'itonga) on right. There is a crown-bird logo at center, perhaps purporting to represent the government but it is missing the CR symbol. During these turbulent times many private banknotes circulated in parallel with government issues, so it is not unusual that the Levuka Pound was issued. Private issues like this probably circulated only locally and essentially represented a contemporary local currency.

All of the four known Levuka Pound promissory notes to have survived are signed by D. Levy and Son, the assumed issuer
. Levy, one of the small number of Jewish businessmen in Fiji, was elected to Cakobau House of Delegates in 1871. Apparently a clever businessman he included both Cakobau and Ma'afu images on these notes to appeal to both competing groups. In 1878 Levy was charged with operating a "chemist and druggist" business without a license. These licenses were almost impossible to obtain, so perhaps he was somewhat justified. Levy was fined £1 8s. I wonder if he paid the fine with a Levuka Pound!

I recall on an unplanned quick stopover in Fiji, I went to the Fiji Museum where I hoped to learn more about these notes but unfortunately the museum banknote expert at that time, Fergus Clunie, was not at work that day. However, my trip around Viti Levu was very memorable.

Will any information ever surface to confirm who actually issued these notes? I have my doubts...so maybe it's time to start researching the similar unidentified Sandon Pound!

AB We gratefully acknowledge AB for these images.
CL1 We gratefully acknowledge CL1 for these images.