The "Levuka Pound" was name by researchers and collectors because no information to date has been identified as to who issued these notes!
It has been reported in the Roger & Cantrell book, Paper Money of Fiji I, that this 1 Pound note was printed in Au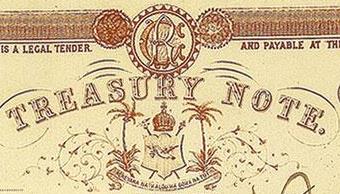 stralia. On the note it indicates that it was issued in Levuka, hence the"Levuka Pound" designation.

All Cakabau government issues were also issued in Levuka but are in Dollar denominations. They all contain the "CR" Cakabau Rex symbol, "Treasury Note" and a COA (Coat of Arms) to assert their issue by the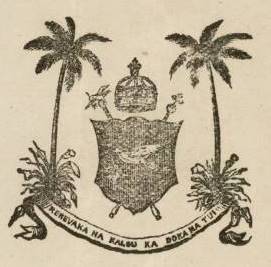 Cakabau government. Government debentures also contain the government COA.
Interestingly the "Levuka Pound" has two pictures of Ratu Cakabau and a crown-bird logo perhaps purporting to represent the government but it is missing the "CR" symbol. During these turbulent times many private banknotes circulated in parallel with government issues, so it is not unusual that the "Levuka Pound" was issued.

I recall in the late 1980's during a quick stopover in Fiji, I went to the Fiji Museum where I hoped to learn more about these notes but unfortunately the museum banknote expert Fergus Clunie was not there at the time!

Will any information ever surface as to who issued these notes? I have my doubts...