H.R.Harmer, Inc.
is Proud to Present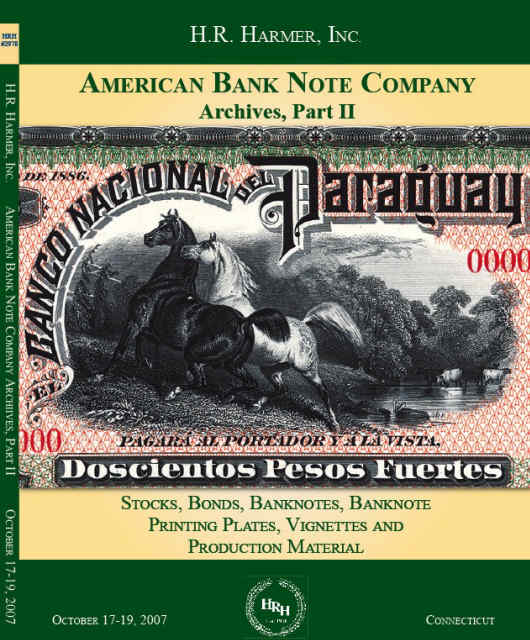 The Historic
American Banknote Archives Auction
PART II
Consisting of:
Rare Banknotes, Vignettes, Stock and Bond Certificates, Stamps, Production Material, Security Printing Ephemera and Foreign Stamp and Banknote Printing Plates
October 17th to 19th, 2007
Bethel, Connecticut
The magnitude of material printed and produced by the American Bank Note Company and its predecessor companies is almost beyond comprehension. Our successful American Bank Note Archive Auction sale held in late January and early February of this year included over 2300 lots of material with many unique, extremely rare and exciting items that had never been offered to the collecting community before.
We decided to do it again!
Included in this sale, presently, are over 2,400 lots of banknotes, stocks, bonds, stamps, philatelic and banknote printing plates, and security printing ephemera. We are still in the process of finishing up the catalog and it is yet to be determined how many more lots will end up in the sale. Some of the many highlights in this sale include:
-Over 700 Worldwide Proof and Specimen Banknotes Including
· Over 100 Chinese proof, specimen and essay banknotes with many unique items
· Unique metal printing plates for stamps and banknotes from Costa Rica, Nicaragua, Cuba, China and other countries
· Over 40 lots of rare proof and specimen Mexican banknotes including 16 different uncataloged "Bono De Caja" banknotes
· Over 70 lots of Canadian Banknotes and banknote production material including proofs, models, vignettes and miscellaneous numismatic or philatelic items
· The 2nd and final set of specimen "Turnkey Commissary Receipts" as well as unique proofs and models of this rare MPC related series
· 35 lots of Venezuela proof, and specimen banknotes as well as rare and unique production related items including unique original artwork of banknotes
· Over 40 lots of Haiti proofs, specimens, models and essays with a number of unique items
· Rare advertising items from American BNC, Western BNC, Security BNC and other companies
· A large assortment of Traveler's Checks & Depression Scrip proofs and specimens
· Classic proof vignettes from ABNC and predecessor companies including the topics of mining, railroads, allegorical figures, obsolete and early U.S. and foreign banknote related vignettes, Santa Claus, Native Americans, animals, military and many other topics
· U.S. Obsolete banknote proofs as well as U.S. Savings Bond Proofs and specimens
· Literally Hundreds of Rare Worldwide Banknotes From China, South America, Central America, Haiti, Venezuela, Cuba, Dominican Republic, Russia, Czechoslovakia, Indonesia, Viet Nam, Philippines and Numerous Other Countries
· -Over 1,100 Worldwide Proof and Specimen Stock and Bond Certificates including over 300 railroad and 200 mining stocks and bonds as well as numerous other topics including aviation, finance, banking, foreign and others
· -Hundreds of Interesting and Rare Vignettes, Advertising Pieces and Miscellaneous Archival Production Items

---
This sale represents another opportunity for the advanced specialist as well as beginning collector to obtain exhibition quality material that is unique or extremely rare and up until recently, not even rumored to exist.
Please call, email or FAX to reserve your catalog for this exciting sale.
H.R.HARMER, INC.
5 Francis Clark Circle
Bethel, CT 06801 USA
Ph: 1-203-702-8490
Fax: 1-203-791-1832
Toll Free (In the Continental U.S.): 1-800-522-1607

On line catalog and website: www.hrharmer.com

Email: hrharmer@hrharmer.com

Preview website: WWW.ABNHARMERAUCTIONS.COM for images and more information.
Catalogs are $30 each (there is an additional $9 charge for delivery outside of the U.S.) for a full color lavishly illustrated catalog which is destined to be a future reference book

---
This is a Live Public Auction sale as well as being featured on eBay Live