The Republic of South Sudan (RoSS) will come into existence on 9 July 2011. On March 22, 2011 the cabinet approved the name of the country and other symbols of sovereignty.

The name of the new country's currency will be called the South Sudan Pound. The current Minister of Finance and Economic planning, David Deng Athorbei is expected to be given samples of the new currency for his approval, if that has not already happened.

The Sudan Tribune reported that "while it was suggested by members of the committee working on the design of the currency that the face of the first chairman of the Sudan Peop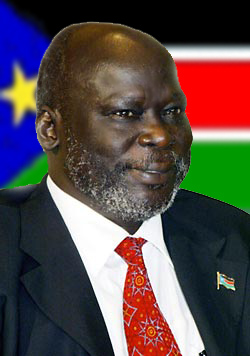 le's Liberation Movement (SPLM), the late John Garang de Mabior (shown at right and on new banknotes), others from the public say it should instead be the current President of the Government of Southern Sudan, Salva Kiir Mayardit, who will become the first President of the Republic of South Sudan 9 July 2011 that should have his face featuring on the currency."
There has also been a suggestion that other leaders in South Sudan who initiated the southern struggle in 1947 should be considered to appear on the currency.
"Historical symbols, cultural heritages and sources of our livelihood plus our beautiful rivers, mountains and forests are the common symbols that unite us as the people of South Sudan and should be the only ones featuring in the currency," argued Thomas Laku, who works as an official in the government.

With these comments it would appear that the New Sudan Pound examples above were probably examples of possible designs and do not appear to reflect the wishes of the currency committee.