Société Haïtienne de Numismatique
Bienvenue a haitinumismatic.info le site officiel de la Societe Haïtienne de Numismatique dont la mission essentielle est la promotion de la monnaie Haïtienne.
Haïtian Numismatic Society
Welcome to haitinumismatic.info the official site of the Haïtian Numismatic Society, whose primary mission is to promote Haïtian numismatics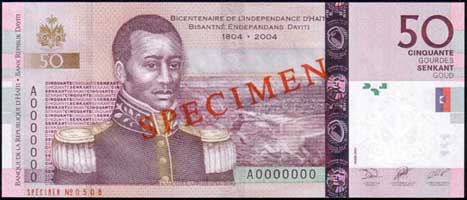 BICENTENNIAL ISSUES RELEASED
On August 20, 2004 Haïti released to the public two of its six 2004 bicentennial commemorative banknotes; the 10 Gourdes with the portrait of heroine Lt. Sanite Belair and the 25 Gourdes depicting General Nicolas Geffrard. The remaining 4 notes in this series have now also been released to the public. In August the notes were initially held back due to lack of demand form the participating banks. For the first time the banknotes of Haïti have been executed in both French and Kreyòl. Designed by Haïtian architect and painter, Daniel Elie, the bicentennial issues portray the most significant leaders of the revolution. Joseph Guerdy-Lissade, President of the Haïtian Numismatic Society contributed his extensive numismatic knowledge to these wonderful designs. On the back of each note are the fortifications which were instrumental in winning their victory over the French.
These new notes will be listed in the next update of the Standard Catalog of World Paper Money as #272 through #277 for the 10 Gourdes through 500 Gourdes dated 2004.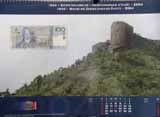 In addition to the six banknotes, the Central Bank also prepared a limited edition 2004 calendar privately printed in Germany. A total of 2000 pieces were prepared with one of each new banknote numbered A0000001 to A0002000. The calendar is in French and contains beautiful images of the fortifications and additional detail about the leaders featured on this series. The banknotes are placed in clear open ended holders so they can be removed from the calendar without damaging them.
---
Société Haïtienne de Numismatique

-

Haïtian Numismatic Society


Readers are encouraged to join and support our new organization. Haïti's colorful history is proudly reflected in numismatics, both in coins and banknotes, with one of the most vivid examples being the newly released 2004 bicentennial series of banknotes. Haïti numismatics has long had a small but very dedicated collector base within Haïti who have not had a specialized organization dedicated to their needs. With the establishment of this new organization we hope to bring greater awareness of Haïtian coins, medals and banknotes not only to Haïtians but to a wider audience throughout the world.
---
New Planned Banknote Issue


KM.278 1,000 Gourdes 1999

In 2005, the

1,000 Gourdes

Hyppolite - Port-Au-Prince commemorative issue, dated 1999 is scheduled for release to the public. This note was prepared and printed in 1999 but was not released as the supporting legislation was not codified.

Dealer Business Ads

The prominent section at the left of the home page has been reserved for dealer ads. We often rely on world numismatic dealers to find rare or difficult isues so we encourage you to support them.

Dealers wishing to place ads on our home page, please contact us for details.

Haïtian Numismatic Society
88 Rue de la Réunion
Port-au-Prince, Haïti

Phone: (509) 222-2688
Fax: (509) 222-2689

Email: info@haitinumismatic.info

Contact | ©2004-2014 Haïtian Numismatic Society